Recent studies show that 1 in 5 Americans are slowly losing their hair, with 20% of those experiencing hair loss or baldness being under the age of 30. If you're experiencing unwanted hair loss, don't give up hope. Dr. Chow's Medical Practice offers a variety of hair loss treatment solutions for local patients to choose from. We use the Alma TED® for Hair Loss Treatment. Click here to learn more about this advanced technology and how it can benefit you.
Minoxidil and Finasteride are two of the most common prescriptions used on the market to promote hair growth.
Minoxidil is a topical medication works by widening blood vessels and increasing blood flow in your scalp and to your hair follicles. While Minoxidil doesn't stop hair loss, it does work to make hair in a resting state initially shed, and then be replaced by hairs that are in a growing state. So while you may see a temporary increase in hair loss when using Minoxidil, overall, you'll see those lost hairs replaced by hairs that are in the active, growing phase as you continue your treatment.
Finasteride works differently. It prevents hair loss by stopping their testosterone from converting into dihydrotestosterone (DHT), which is a very strong and powerful androgenic hormone that causes hair loss. While DHT does damage hair follicles, it usually takes time to fully affect them.
Nutrafol is a natural supplement designed to stimulate hair growth. It's 100% drug-free, and the company makes solutions targeted for men, as well as a product targeted directly for women, thus addressing the different genetic causes of hair loss between the sexes. This oral supplement not only has scientific data to back up its effectiveness but is also used by over 1,100 physicians.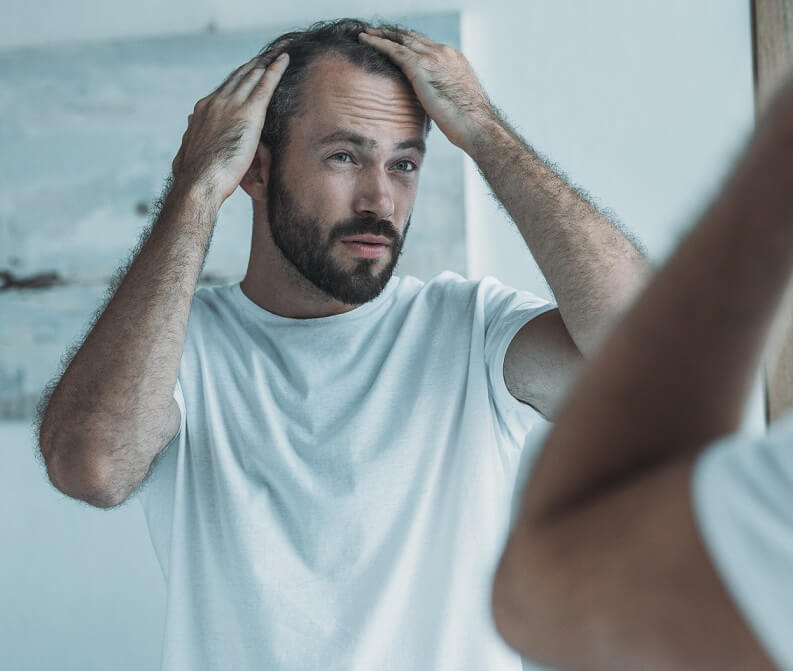 Platelet-Rich Plasma (PRP) injection
Another natural solution for treating hair loss is concentrated growth factor injections (PRP). 
The process will take about 40 min. We use your own blood and spin in a centrifuge to create concentrated growth factors – a process that takes only 10 minutes. We will inject the growth factors into your scalp to promote hair growth and increase blood flow to the area.
Extensive research to support the treatment
No risk because the solution is using your very own blood!
Incredible results
Patients may require several monthly treatments and  maintain with injection every 6-12 months to achieve and maintain the best possible results.
If you think you're interested and you meet its requirements, talk to Dr. Chow about this effective hair loss treatment option. It can be used in combination with other hair loss treatments.
At-Home Light Therapy Treatment
For some hair loss patients, another solution is at-home light therapy treatments, which help men and women regrow lost hair from the comfort of their own homes. This solution also helps to improve the quality of your hair by increasing your scalp's blood supply.
Schedule a free consultation with Dr. Chow to determine the best option for you!

Cherry Financing is a company that offers simple, fast, and flexible payment plans for aesthetic services.
Click the link to learn more about Cherry and how it can help you reach your goals