PDO thread stands for polydioxanone thread, a synthetic absorbable surgical suture, proven to be one of the safest materials to be implanted in the body. We carry the highest quality FDA-cleared Nova and Mint PDO threads.
PDO Threads can very effectively:
Who is a good candidate for thread lift?
Mint or Nova thread lifts are perfect for both men and women with light-to-moderate sagging skin around the face, neck and jowl areas. They are non-surgical face lifts with little or no downtime.
How does the treatment work?
PDO threads help redefine facial contours and induce collagen production. Stimulation reaches full effect about 3 months after treatment once collagen has naturally formed around the thread. A recent study by The American Society for Dermatologic Surgery showed that the thread is safely absorbed within 4-6 months, by month 7, the collagen present in the treated area increases by 100%. Results may last between 12 and 18 months.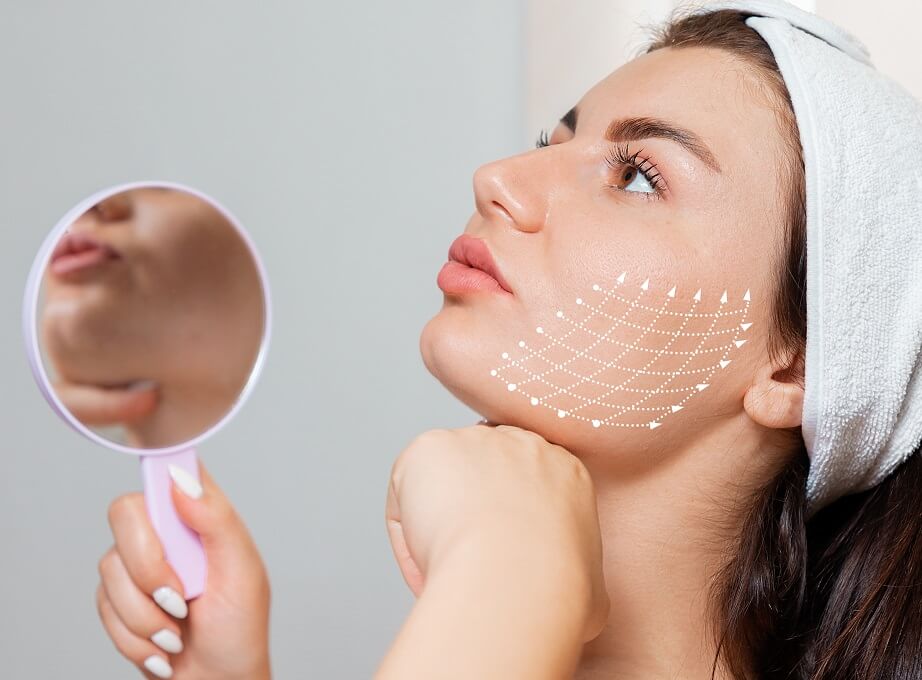 What happens during the treatment and how long does it take?
Local anesthetic is gently injected into entry points for the threads. The PDO threads are introduced using a delicate needle or a fine microcannula. You will be able to resume everyday activities in a couple of days. Great results can also be achieved by combining PDO threads with dermal fillers or neuromodulators. Treatment time can vary between 45 and 60 minutes depending on the area treated.
When will I start seeing results?
There is an immediately noticeable improvement after the treatments. Results continue to improve over 3 months or so as new collagen forms around and between threads, proving further lifting and tightening.

What to know before and after a Thread Lift?
Before — During the procedure consultation, Dr. Chow and our friendly staff will review all of the information you need to attain exceptional results. We can address any concerns and questions you might have, develop an understanding of your desired results, and discuss the techniques and anesthesia options we offer.
The thread lift will be performed as an outpatient same-day procedure and usually takes about 1-2 hours. To help limit any potential bruising from the procedure, we recommend discontinuing use of any (blood thinning) products containing aspirin, ginseng, & green tea for two weeks prior to the procedure.
After — It is normal and should be expected that the treated areas feel a bit swollen and sore immediately after the procedure. Any discomfort can typically be treated with over-the-counter pain-relievers, such as acetaminophen. Please call our office immediately if you have persistent and unmanageable pain.
After receiving a non-surgical facelift, most of our patients have returned to normal activities after a day or two. Although results are immediately visible, your body will continue to heal and produce collagen which will stabilize and produce further improvements over time!
What are the risks or side effects of mint thread lifts?
Risks with this procedure are very minimal. Side effects can include swelling, bruising, slight discoloration and light discomfort around the treated areas for a couple days. These can be treated with ice packs or over-the-counter pain relievers as needed. Dr. Chow takes all of the necessary precautions to ensure that your treatment is as effective as possible.
Now serving surrounding cities with PDO Thread Lifts in, Kansas City, Blue Springs, Independence, Raytown, and Overland Park.
Call Now for a Consult.  (816) 600-6236

Cherry Financing is a company that offers simple, fast, and flexible payment plans for aesthetic services.
Click the link to learn more about Cherry and how it can help you reach your goals