Are you tired of dealing with pesky unwanted hair? Unwanted hair can be a persistent nuisance, leading many on the hunt for a reliable and lasting solution to nix that unwanted fuzz. In the world of Aesthetics, Soprano Titanium has emerged as the ultimate hair removal technology, offering a safe, comfortable, and efficient way to achieve smooth, hair-free skin.
Say goodbye to the hassles of shaving, waxing, or plucking, and embrace the advanced benefits of Soprano Titanium for a more confident and carefree lifestyle.
What is Soprano Titanium?
Soprano Titanium is a state-of-the-art hair removal system that utilizes advanced laser technology to target hair follicles and inhibit hair growth. The device employs a diode laser that emits a specific wavelength of light, effectively penetrating the skin and reaching the hair follicles beneath the surface. This laser energy is absorbed by the melanin, or pigment, in the hair follicles, generating heat that damages the follicles and prevents further hair growth.
The machine guarantees the following:
40-45 minutes whole body hair removal

No numbing required

Quicker than normal laser hair removal

Pain-free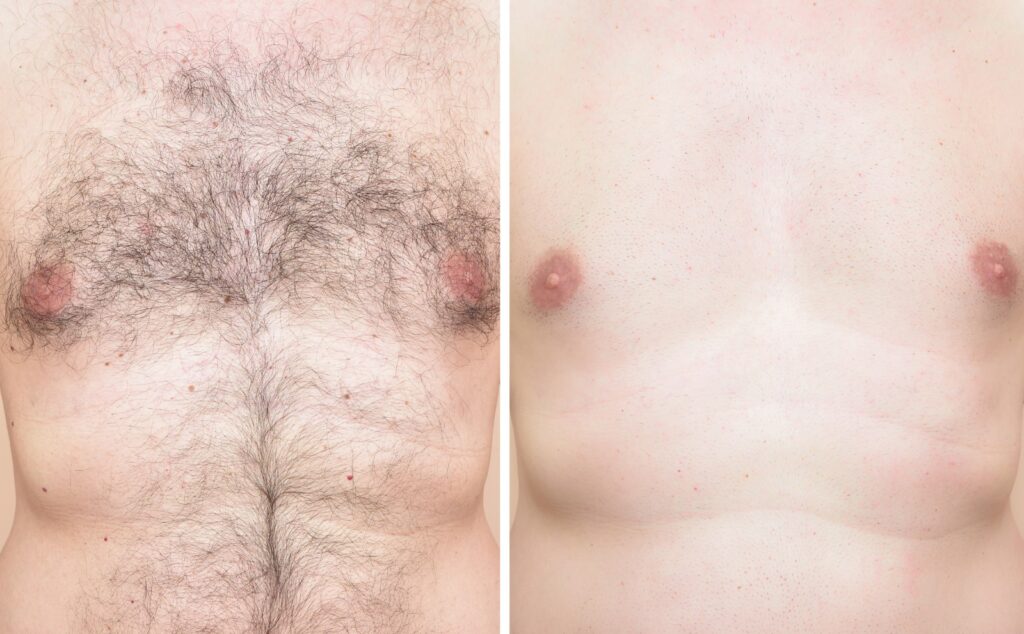 The Soprano Titanium comes with these other unique benefits that you'll surely love:
Suitable for All Skin Types.

One of the standout advantages of Soprano Titanium is its suitability for all skin types and tones. The advanced technology used in the device allows for precise customization of energy levels, making it safe and effective for individuals with darker skin tones who were previously not ideal candidates for laser hair removal. Whether you have fair, olive, or dark skin, Soprano Titanium can deliver excellent results without causing damage to the surrounding skin.

Quick and Efficient.

  Soprano Titanium offers rapid treatment sessions, making it a time-efficient solution for busy individuals. The device's large treatment spot size allows for extensive coverage, enabling faster sessions compared to traditional laser hair removal systems. With no downtime required, you can easily fit Soprano Titanium treatments into your schedule and quickly resume your daily activities.

Long-Lasting Results.

The results achieved with Soprano Titanium are long-lasting and far superior to temporary hair removal methods like shaving or waxing. As the treatment targets hair follicles at the root, it effectively reduces hair growth over time. While multiple sessions are typically required for optimal results, patients often notice significant hair reduction after just a few treatments, leading to smooth and hair-free skin.

Versatility in Treatment Areas.

Soprano Titanium's versatility extends beyond the face and body, making it suitable for a wide range of treatment areas. Whether you wish to remove unwanted hair from the legs, underarms, bikini line, back, chest, or even sensitive areas, Soprano Titanium can safely and effectively address each area with precision.
Choosing a qualified and experienced provider is crucial for achieving the best results with Soprano Titanium hair removal. 
Dr. Chow's Rejuvenation Practice in Lee's Summit, MO, is a trusted and skilled professional who can guide you through your hair removal journey, tailoring the treatment to your specific needs and desired outcomes. With a keen eye for aesthetics and a focus on patient comfort, Dr. Chow ensures that each Soprano Titanium session is administered with the utmost care and precision. 
Schedule your appointment with us today!

Cherry Financing is a company that offers simple, fast, and flexible payment plans for aesthetic services.
Click the link to learn more about Cherry and how it can help you reach your goals