Looking forward to enjoying the summer season, but worried about showing more skin because of acne scars or stretch marks? 
Thankfully, there are currently a handful of cutting-edge, effective, and minimally invasive treatments that may drastically improve the look of aging or damaged skin – with little to no downtime. 
One of the most innovative treatments available is Morpheus 8, which combines radio frequency (RF) treatment with microneedling.
What Is Morpheus8?
Morpheus8 is the newest non-surgical, full-body skin rejuvenating treatment equipped with powerful radiofrequency or RF.
Morpheus8 uses tiny needles to deliver radiofrequency (RF) energy to the depths of the skin. Both the micro-injuries from the needles and the heat from the RF energy trigger your body's natural healing response and stimulate new collagen and elastin production to firm the skin and improve fine lines and wrinkles.
What Areas Can Morpheus8 Treat?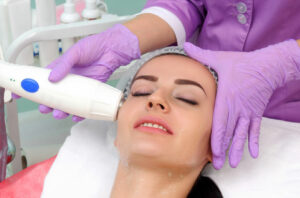 This revolutionary treatment can be used on the following areas:
Face

Neck

Chest

Arms and Legs

Abdomen

Buttocks
Morpheus8 Benefits
Morpheus8 allows you to enjoy the benefits of a facelift without having to undergo surgery, and is ideal for patients who want to get beautiful, natural-looking results that only get better with time and thus never look overdone. 
Basically, this sophisticated micro-needling treatment rejuvenates the skin from within to bring about various and specific results, such as:
Increased collagen production

Improved appearance of fine lines and wrinkles

Firming and tightening of mildly sagging skin

Visible improvements for acne scarring and hyperpigmentation

Reducing the appearance of stretch marks

Helping reduce and sculpt fat just below the skin
Results and How Long it Lasts
Some patients reported noticing benefits like improved skin tone and texture just a few days after having their first session.
Collagen and elastin take time to develop, so the full effects will be more evident within about three months after your last treatment, but you should notice gradual improvements in your skin throughout that period.
Who is an Ideal Candidate?
You are a suitable candidate for Morpheus8 if your chief concerns are:
Acne scars

Mild to moderate skin laxity  

Sun damage or hyperpigmentation 

Stretch marks 

Fine lines and wrinkles.
Morpheus8 is a fantastic solution for those seeking a non-invasive way to rejuvenate their skin because it is suitable for all skin types and tones. 
Lastly, to get the best results, a patient must be in generally good health and must not have any active acne breakouts in the treatment sites because the needles can transfer germs that can worsen the breakout.
Enjoy Summer with Smoother Skin!
Summer is all about enjoying the bright, sunny weather at the beach to the fullest. And if you've got stretch marks and acne scars stopping you from doing that, Morpheus8 can help improve their appearance so you can feel more confident in your own skin!
Our qualified providers here at Dr. Chow's Rejuvenation Practice in Lee's Summit, MO can help you looking – and feeling- your best this summer with Morpheus8, so you can enjoy the season without worrying about having to cover up your skin.
Call now and schedule your appointment with us!