Most people think that the only way to achieve a youthful appearance is through surgery. A surgical facelift is a type of cosmetic surgery that tightens up the skin to reveal a lifted, more youthful look. 
However, It is a major operation that can involve several risks, including infection and nerve damage. In addition, it is important to note that a facelift will not stop the aging process and that the effects of the surgery will only last for a few years. 
Luckily, there are other nonsurgical options that can be just as effective in some cases. PDO threads are one of those options. They are minimally invasive and can give you a more youthful appearance with little to no downtime.
Read on to learn more about PDO threads and how they can help you achieve your aesthetic goals.
What are PDO Threads?
PDO threads are made from polydioxanone, which is an organic substance that is absorbed by the body.

PDO thread lifts were FDA-approved back in 2005 and essentially provide an instant lift and lasting skin-tightening benefits without surgery. 
Lastly, these threads don't just firm or tighten up the skin; they also stimulate new collagen production.
Benefits of PDO Threads
Here are the benefits of a PDO thread lift:
A thread lift is a relatively quick process, and is sometimes called a "lunchtime lift" as a result.

There is little to no downtime required, so patients can go back to their daily routines right after their treatment.

It is significantly less expensive and intrusive than a surgical facelift.

Many patients report a subtle yet significant lift that gets better each day for months, resulting in a natural-looking, youthful appearance.
The Procedure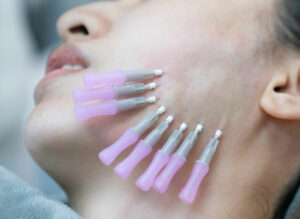 Here's what you can expect during the treatment:
Your provider will mark the areas of your skin where the threads will be placed.

Local anesthesia will be applied to the areas of concern.

Once the anesthesia takes effect, your provider will start inserting the threads via a needle or cannula underneath the skin on the targeted areas.

The threads will be gently stretched or pulled to lift the skin and tissue on the treated areas.
This process will be repeated until enough threads have been placed into the targeted areas. 
Results and Recovery
After the procedure, it's normal to experience mild swelling and bruising for most patients, but these should subside within a week or so. 
The initial result of your treatment provides an instantly noticeable yet natural-looking lift. The final result will be more obvious in three months, but do note that the skin will look (and feel) tighter and smoother each day as the skin produces more collagen during this time.
Instantly Lifted, Younger-Looking Skin is Within Your Reach!
If you're looking for a non-invasive way to achieve or restore that youthful-looking lift without surgery, a PDO thread lift could just be the answer you've been waiting for! 
If you're interested in trying this treatment for yourself, our qualified providers here at Dr. Chow's Rejuvenation Practice in Lee's Summit, MO, will sit down with you for a one-on-one consultation to develop a treatment plan that meets your specific needs.
Call now and schedule your appointment with us today!