The holiday season is upon us and with it comes a rush of parties and get-togethers, the hustle and bustle of family responsibilities, trying to find the perfect gift, and making yourself look presentable for those family photos. 
So, how are we going to take care of our skin this holiday season? 
There are only a few weeks left until Christmas Eve, but that's enough time for Morpheus8 to rejuvenate your skin before the Yuletide holidays 
Keep reading to learn more about Morpheus8! 
About Morpheus8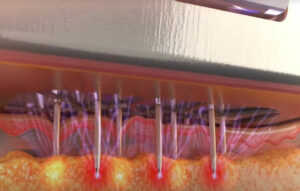 InMode Morpheus8 is a skin rejuvenation treatment that pairs microneedling with radiofrequency (RF). This cutting-edge treatment can address:
Mild skin laxity

Stubborn fat pockets

Sun damage

Wrinkles

Scars
Morpheus 8 is also a minimally invasive  and revolutionary treatment that can also be used on the following areas:
Face

Neck

Chest

Arms and Legs

Abdomen

Buttocks
Although it is a non-surgical alternative for men and women who want to tighten up their skin without going under the knife, it is still essential to remember that everybody's skin is different. So, your provider will always begin by having a consultation with you to determine the right treatment plan based on your medical history, facial anatomy, and aesthetic needs.
5 Ways Morpheus8 Can Rejuvenate Your Skin
Morpheus8 enables you to enjoy the effects of a facelift without having to undergo surgery. It's the ideal treatment for people who want to improve their skin from within. The following are the key advantages of Morpheus8:
Increases collagen production.

Diminishes fine lines and wrinkles.

Lifts and tightens sagging skin.

Minimizes acne scarring.

Can improve stretch marks.
Some patients who have tried this treatment reported noticing its benefits in terms of skin tightening and more improved tone and texture just a few days after having their first session.
However, for the more significant changes in the treated areas, you will need to be patient since both new collagen and elastin take time to develop. The full results will be more evident about three months after having a series of one to three treatment sessions.
Who is An Ideal Candidate?
Just about anyone who seeks to lift and tighten their skin without surgical intervention is a good candidate for the Morpheu8 treatment. If you're worried about the appearance of acne scars, sagging skin, sun-damaged skin, stretch marks, fine lines, and wrinkles, this treatment could be up your alley.
Morpheus8 is a fantastic solution suitable for all skin types and tones. To be eligible for Morpheus8, a patient must be in generally good health and must not have any active acne breakouts in the treatment sites because the needles can transfer germs that aggravate these.
Flaunt Your Best Look This Holiday Season
The fact that Morpheus8 works effectively with all skin tones and poses no harmful side effects is one of its most notable advantages. Morpheus8 is effective on just about every skin tone.
Our qualified providers here at Dr. Chow's Rejuvenation Practice in Lee's Summit, MO can help you look and feel your best this holiday season with Morpheus8, so you can enjoy the holidays without worrying about having to cover up your skin.
Call now and schedule your appointment with us!